There are many ways to earn on Cointiply, and we are always working hard to bring you even more ways to earn. Completing offers from our world-class offerwalls are hands down the best way to earn, and we'll step you through how to do it.
What Is an Offer?
If you're new to the microtask community, some of these terms may be unfamiliar. At its most basic, an offer is an opportunity to earn Coins, usually a microtask. You're exchanging your time, attention, and sometimes work for Coins, which you can withdraw as either Bitcoin or Dogecoin. When you complete an offer, you'll receive your "claim" of Coins, which are added to your balance. You can see all of your claims in your Activity feed.
What Is an Offerwall?
An offerwall is a third party company that manages and arranges a wall of offers, hence "offerwall." Each offerwall is run by a different, third party company. They are responsible for their own content, offers, who can access them, how much they pay, and whether or not you have satisfied the terms of the offer and receive your claim.
Each offerwall has its own support system, though some are better at end-user support than others. Most of our offerwalls have links to their support system inside the offerwall itself, either at the top or bottom of the page.
We work very hard to identify the best, highest paying, most reliable, and highest-integrity offerwalls out there. We're always looking for more—including offerwalls that service more countries—and we remove offerwalls that have issues. This industry is ever-evolving, and we are always working on new and better ways to earn.
What Kinds of Offers Are There?
There are lots of different kinds of offers, and they sometimes vary from offerwall to offerwall. Below are the basic categories of offers you can complete to earn Coins.
Surveys
Our biggest earning offers are surveys, where you earn Coins for sharing your opinions. For more on making the most of surveys, check out our Complete Guide to Earning More Coins by Taking Surveys on Cointiply. Below is a screenshot showing Theorem Reach, our most popular survey offerwall.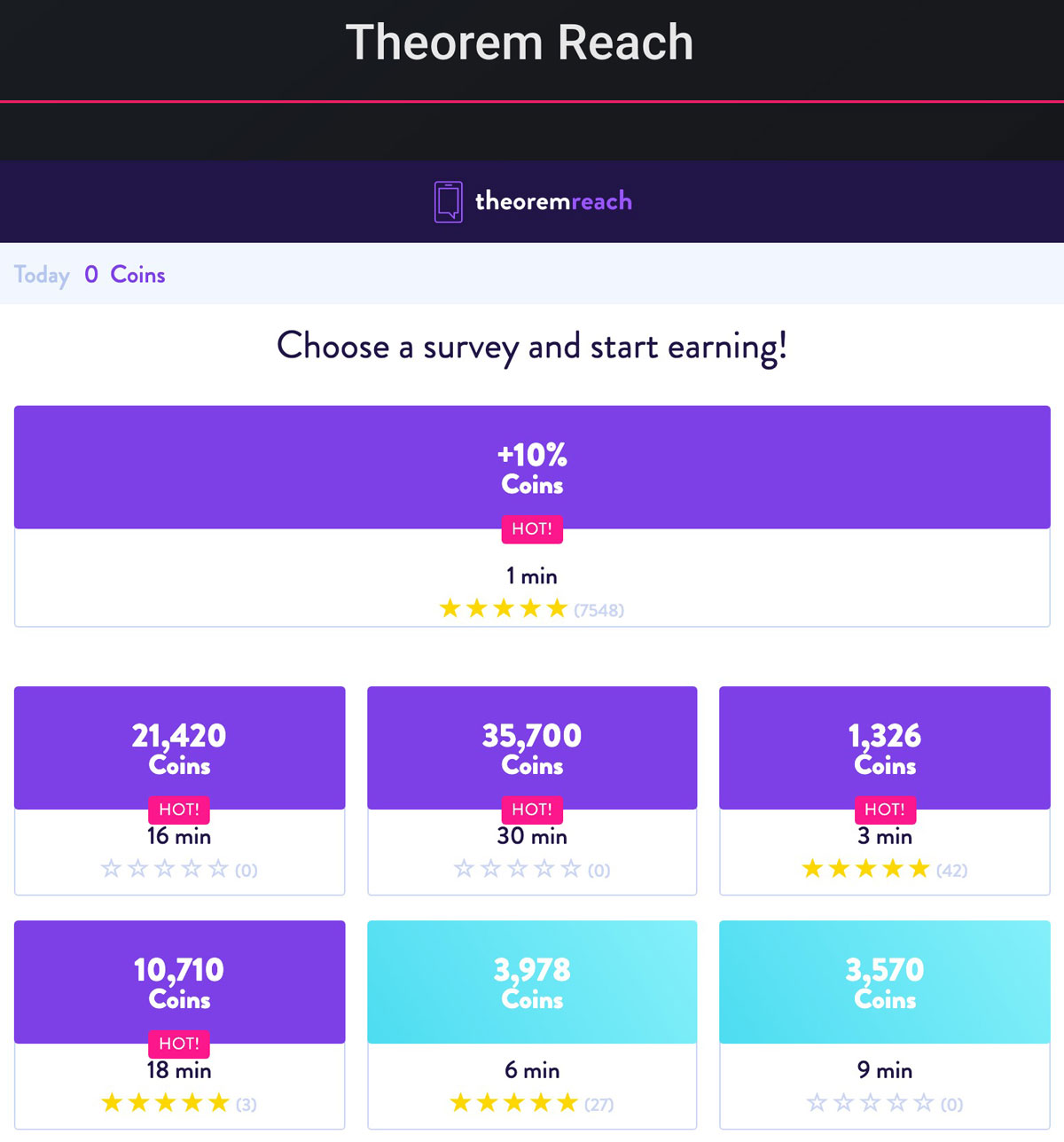 Theorem Reach Offerwall
App Downloads
Another very popular category are app downloads where you earn Coins for installing an app or game. Most game download offers require you to reach a certain level in the game to qualify for the reward, and there are some that pay handsomely. Better yet, you're getting paid to play a game! You never know when you're going to find a new game you love, and that's why these offers exist.
Many offerwalls have app download offers, including AdGate Media, Adscend Media, Offer Toro, Minute Staff, AdGem, Persona.ly, Kiwi Wall, OfferDaddy, Super Rewards, and Adwork Media. You'll also find that each offerwall might pay a different amount for the same app download, so it pays to shop around. We have a convenient tab on our offerwall page labeled App Installs & Signup Offers.
Below is an example of an AdGem app download offer—but as we said above, shop around, because you can earn a lot from app downloads.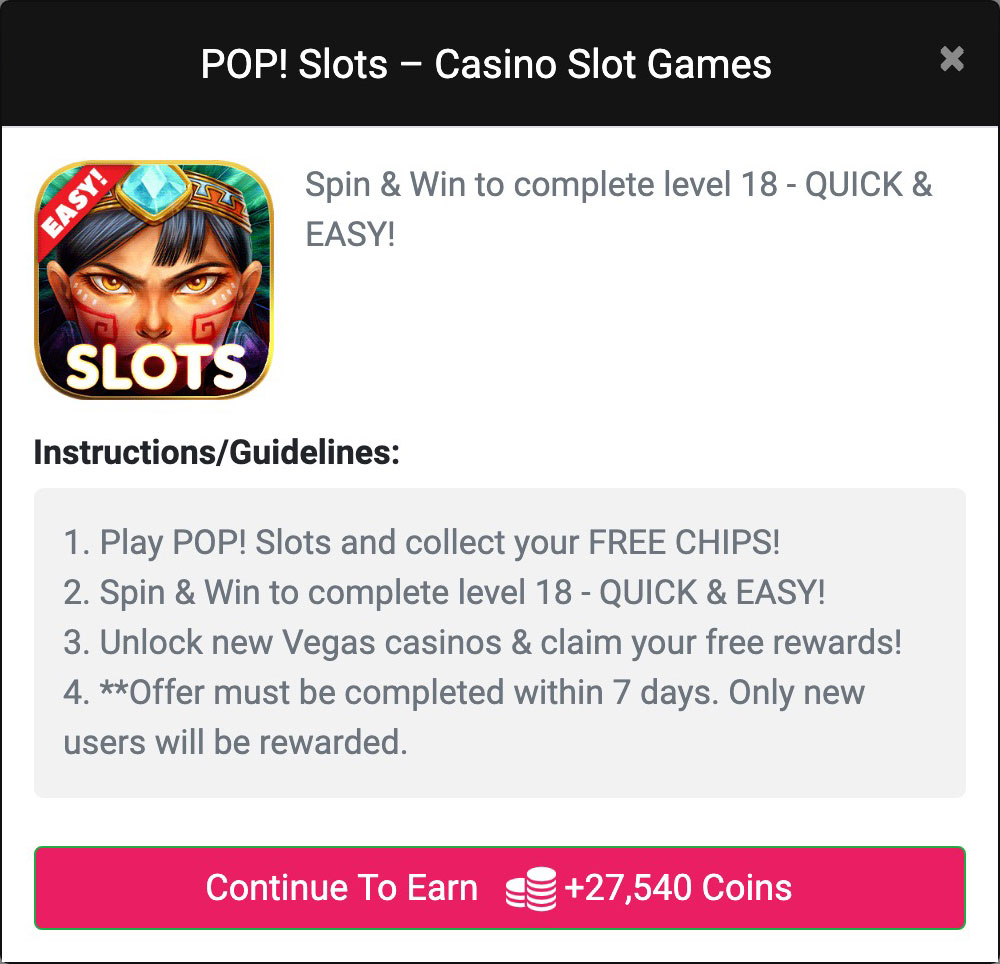 An example of an AdGem app download offer
Signup and Deposit Offers
There are also signup offers where you sign up to a list or for a service, as well as deposit offers where you are are rewarded for joining a site and depositing real money. You can also subscribe to new services like Hulu, Spotify, Apple Music, YouTube TV, and many, many others and get get paid. Note that most, if not all, of these are for new signups, depositors, and subscribers only, and the offerwalls and the companies they contract with are very savvy at sniffing out fraud.
These offers can be very rewarding, but we always stress that you should do your homework and due diligence before handing over personal information and/or credit card numbers to any third party. Best practice in the crypto world is always caveat emptor!
More Video Games
We also have offerwalls of video games. You earn Coins from completing your Activity Bar over time, with ads being shown between rounds of the game. Again, you get paid to play games!
Watching Videos
One of the most cool ways to earn Coins is to get paid to watch videos. Hideout.TV, Smores.TV, and VideoFox all have video channels you can leave on. These are high quality videos covering a wide variety of topics. The content-related videos have ads that run between them, and that's why you get paid to watch. We have many members who earn a lot of Coins from watching videos, and you should give it a try.
PTC Ads
PTC stands for "paid to click." Basically, someone is offering you a few Coins to click on a link and visit a webpage. Sometimes they just want the traffic to their site. Some folks like to bring people to their YouTube video. Others are hunting for referrals, and hope that you'll sign up at the site they're promoting. Here's a random sampling of four different PTC Ads on Cointiply: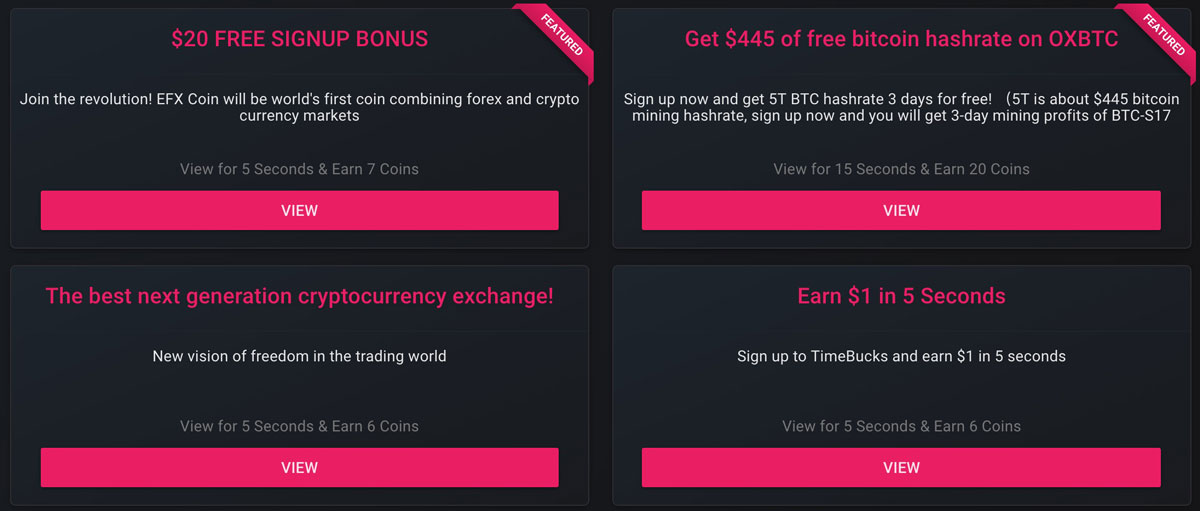 Example of PTC Ads on Cointiply
Our PTC Ads are bought and paid for by other Cointiply members. You'll find a wide variety of websites to visit, and you'll see how much each is paying you to visit right there in the description. Check back multiple times each day for new ads, and remember to do your own homework and due diligence before signing up for something. As we noted earlier, in the crypto world, it's caveat emptor.
Tasks and Microtasks
The last major category of offers are task based. Minute Staff specializes in offers where you are paid to visit a web page and/or click some links. Figure Eight (on Wannads, currently) has a variety of word and language-related tasks. They're an interesting company because these tasks are used to help train AI models. The tasks can be difficult, but as you level up within their system, you can earn more and more.
There are some repeatable quizzes and other tasks in the offerwalls, too. If this interests you, explore the offerwalls to find the ones that work for you. You can also talk with other members in our live chat room for tips on these and other offers.
Cointivity Boosts and Bonus Earning
We have a system built in to Cointiply that lets you earn more for the offers you are already doing. It's called Cointivity, and it lets you earn Cointivity Points for each offer you complete. You can then spend those Points buying Pods that contain earnings boosts. We have a whole section of support documents explaining everything about our Cointivity system, but we wanted to mention it here, too. With enough Cointivity points, you can easily earn 20% or more for the offers you already do.